Owning a Volvo is a pleasure and it's only natural that you should want to protect your car and help it maintain its characteristic durability for as long as possible with the best Volvo servicing Melbourne can offer. We can help you do that. At SSC Mechanics we have the experience, tools, and equipment necessary to help your car last as long as it possibly can.

If you'd like a more direct approach you can call us on (03) 9338 9573 and our friendly staff will be more than happy to answer any questions you might have. Otherwise, if you'd like to know a bit more about what makes Volvo so special, read on!

The Volvo Domination
Volvo is a car brand well renowned for its safety features. Since its inception in the 1920's, Volvo has been known for its reliability, and is a popular luxury car brand all over the world. Cars like these are special, not just for their impeccable quality but because they become such a big part of daily life for a long time – but they'll last even longer with a good mechanic to keep them running.
This dedication to safety is part of what makes Volvo such a reliable, trustworthy brand. Aside from their safety concern, Volvo is well known for their unique ability to handle off-road treks, sleek design, unparalleled practical features, and their turbocharged engine and fuel economy. That's why a dedicated Volvo mechanic well-versed in Volvo servicing is necessary to maintain the life of your vehicle.
Starting as prime safety innovators, Volvo developed a name for themselves as a moderately priced, extremely reliable, and luxury family car. A Volvo is a precious vehicle, and as such, you should only have the best Volvo servicing. That's where we come in.
SSC Mechanics: Independent Volvo Mechanics
When you've got a car that's as precious as a Volvo it pays to keep it in good nick. And unless you're a trained mechanic yourself, attempting any kind of mechanical work can be dangerous, and if you manage to get out unscathed you may end up causing damage to your car that costs more to fix than the original issue anyway.
At SSC Mechanics we've established a reputation as an accomplished fixer of European vehicles. They're honestly a little bit of an obsession with us. We love everything about European cars and a Volvo service is no exception.
Not only are we dedicated to quality service on quality cars, but our Airport West-based business in Melbourne is entirely family owned and operated. That means when you deal with us you're not just dealing with an average Volvo mechanic. You're dealing with people that understand just how important a car is to a family. Group outings, work, extra curricular all require a vehicle you can rely on, so if it breaks down, it can be a huge hassle.
We recognise that these are things any business might say. But if our reputation doesn't convince you, maybe our certifications will:
LVT (Licensed vehicle tester/Roadworthy inspection)
AAFRB (Automotive Alternative Fuels Registration Board)
VACC Certificate III Automotive – qualified light vehicle automotive technician & motor mechanic.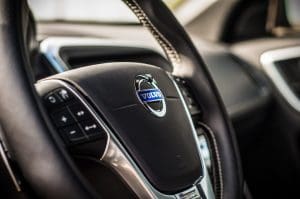 Our Volvo Services
If you're still curious, then maybe taking a look at what we offer will help you out:
Transmission Services
Some common problems with cars involve the transmission. This is the mechanism that makes switching gears possible. If your vehicle is experiencing issues with switching gears or you detect a burning scent from your car, bring your Volvo to Airport West Melbourne and we'll get it all fixed up for you.
Radiator Repairs
When cars get exceedingly hot, they can't sweat.  Instead, their radiator is responsible for keeping them cool. Issues with this can be devastating, but fortunately that's part of why we're here.
Mechanical Repairs
No matter what is going on with any of the mechanisms in your car, we can fix it up.
From replacing spark plugs to changing oil for your Volvo service, the SSC Mechanics Team has seen it all and fixed it all. We've tackled everything from minor parts replacements, to major structural damage.
Log Book
Log Book repairs are imperative to keeping your car running smoothly. Volvo servicing at our Airport West workshop can help keep your car collecting miles for years. Just make sure you get it done every year!
Road Test
These inspections are highly specialised and require special licensing to be done, even by a registered mechanic. Fortunately we are licensed to conduct road tests, and can effectively ensure the safety of your car.
Vehicle Safety Check & Inspection
Although Volvo is known for their safety measures, they are, just like all cars, a collection of nuts and bolts. It might take a while but eventually they will need some upkeep. Get your car regularly checked out and you'll be just fine.
Roadworthy Certificates
If you're selling your Volvo, then it has to receive a roadworthy certificate. These certificates can only be carried out by licensed mechanics, and require a series of very specific tests over time. We at SSC Mechanics are fully certified to give roadworthy certifications and take great pains to ensure our tests are accurate.
Wheel And Tyre Fitting
Not only are wheels the central mechanism of the car (after all without them how would we get anywhere?) but they're a safety feature too, with the tyre tread being responsible for your grip on the road. If your tyres are looking a little bald, bring your car around and our Volvo mechanics will get it fitted out with some new, safe tyres.
SSC Mechanics
SSC Mechanics has been in the industry for decades, and our family-owned-and-operated dynamic means that we genuinely understand what a car means to you. If you're looking for a Volvo mechanic in Airport West, Melbourne, then why not give us a call on (03) 9338 9573 or contact us here.
Don't drive a Volvo? No problem! We specialise in all car brands, including Holden, Alfa Romeo, Maserati mechanics, Subaru mechanics and Toyota.