Jeep, the first true SUV, is one of the most recognizable 4x4 vehicles in the world today. Launched way back in the 1940s, this American automobile brand has won the hearts of millions, thanks to its revolutionary design, sturdy construction and world-class safety features. You need a Jeep mechanic to take care of it!

Over the years, the design and features of the Jeep cars have adapted to the changing times. However, at its heart, the humble Jeep remains the same – a versatile off-roader that'll be the best companion for your automotive adventures.

If you want your adventure companion to work efficiently, you'll need a Jeep mechanic you can trust. Thankfully, our team at SSC Mechanics can provide you with specialist Jeep servicing in Melbourne. The expert technicians at SSC mechanics are dedicated to providing excellence while working on your vehicle, and you can rest easy knowing that your car is in the right hands.
Whether you own a Jeep Compass, Wrangler, Cherokee, or any other model or make of Jeep, the specialist Jeep mechanic, SSC Mechanics, will ensure that your vehicle gets the care it deserves. Call us today at (03) 9338 9573 to know more about our services!
Jeep – The True-Blue SUV
The history of Jeep can be traced back to the 1940s, when the first Jeep model, Willys MB, was launched. It was largely manufactured for the U.S. military during the peak of the Second World War. The reliable and rugged vehicles were more than capable of tackling any terrain, which is what made them the favourite choice for the troops. More than 300,000 Willys MB Jeeps were manufactured for the U.S. Army. A large number of these vehicles, almost 30% of the total production, were also shipped to the American allies.
The Jeep has come a long way since the time of the Willy MB, undergoing several changes in technology and design. Today, the Jeep family boasts several eye-catching SUV models, like the Cherokee, Renegade, and Compass, all of which have contributed to its success. Even though the design has evolved, certain key markers or characteristics of Jeep vehicles still remain, like the unique grille, bumpers, boxy-style body and huge tires.
Here's what else makes the Jeep unique in the world of SUVs –
Best off- and on-road capabilities:

The great thing about the Jeep cars is that you can take them practically anywhere. Jeep SUVs are typically designed to be used for all kinds of cruising capers, from your daily commute to off-roading adventures.

Durability and easy maintenance:

Jeeps are well-known to be durable and tough vehicles that can handle the rockiest of terrains. Their sturdy build quality and robust exterior also make Jeeps relatively easier to maintain than other SUVs.

Impressive performance:

Most Jeep models are equipped with powerful engines. They are also known to provide greater stability, traction and control, thanks to their advanced 4×4 system.
Specialist Jeep Mechanic in Airport West
With over 12 years of experience in the industry, our Jeep mechanics at SSC Mechanics are dedicated to solving all your vehicle servicing and repair needs. Whenever you bring your Jeep to our garage, you can trust that it will be in experienced hands. We also make sure to use only genuine and original parts, as recommended by Jeep manufacturers themselves. 
Being a family-owned business, the most important thing for us here at SSC Mechanics, is that you're 100% satisfied with our Jeep servicing and repairs. This is why all our services and repairs come with a 12-month warranty. Our Jeep mechanics also keep all the services competitively priced so that you know you're getting true value for money.
SSC Mechanics is a fully-accredited Jeep mechanic possessing the following certifications –
LVT (Licensed vehicle tester/Roadworthy inspection)

AAFRB (Automotive Alternative Fuels Registration Board)

VACC Certificate III Automotive – qualified light vehicle automotive technician & motor mechanic
Jeep Service Inclusions
Jeeps certainly are durable and tough vehicles, offering superior handling and ease of drive, among other things. However, even the toughest vehicles need a certain level of upkeep, which is what we're here to provide.
Here's a brief look at our Jeep services.
Mechanical Repairs
Timely mechanical repairs are very important if you want to improve the efficiency and performance of your Jeep and extend its lifespan. Whether you're requiring a battery replacement or something as simple as a windscreen wiper repair, SSC Mechanics can take care of all your Jeep's mechanical repairs right here in our garage at Airport West.
Radiator Repairs
Jeeps are built to tackle any kind of terrain and weather. But your Jeep's radiator system has to be working well if you want it to deliver on its performance. If left unchecked, a radiator problem can spell trouble for your car in the future. SSC Mechanics can help in carrying out maintenance and repair services for your car radiator.
Transmission Services
As it is with any other car, you can encounter various problems with your Jeep's transmission too. Thankfully, we also happen to offer exceptional transmission services here at SSC Mechanics. Whether it's leaks, overheating, electrical faults or delayed engagement, a qualified Jeep mechanic at SSC Mechanics will be able to service your Jeep transmission to fit manufacturer's specifications and standards. 
Log Book Repairs
There are certain log book servicing and repair tasks that must be performed at specific time and mileage intervals to ensure that your Jeep vehicle adheres to manufacturer standards. This is precisely why our team at SSC Mechanics also provides recommended Jeep log book repairs, ensuring that your vehicle stays in smooth running condition.
Vehicle Safety Check & Inspection
Taking your Jeep through rocky terrains will likely put some amount of strain on the car, even if it is one of the toughest off-road vehicles out there. Thankfully, at SSC Mechanics, you can get regular vehicle safety checks and inspections for your Jeep to ensure that it stays in optimal running condition between your outdoor adventures.
Wheel And Tyre Fitting
If you want proper grip and stability on the roads, it's important to secure specialised wheel and tyre fitting services for your Jeep from time to time. With professional wheel and tyre services at SSC Mechanics, you can also protect the brakes, suspension and other components of your Jeep vehicle from excessive damage and wear.
Roadworthy Certificates
If you're looking to secure roadworthy certification in order to sell your Jeep, our Jeep mechanics can help you with that too. We are fully licensed and equipped to conduct all the roadworthy tests that are needed for determining the operational efficiency of your car.  
Road Tests
With SSC Mechanics' road test services, you can get a comprehensive safety and performance evaluation of your Jeep in next to no time at all. This can be especially useful for identifying any current and potential future issues that may impact your Jeep.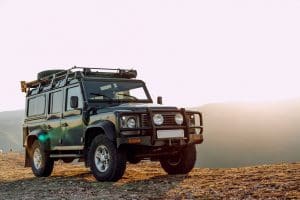 Why choose SSC Mechanics for your Jeep mechanic?
If you're looking for a one-stop shop for all your Jeep servicing, repair and maintenance requirements, SSC Mechanics is your answer. With over 12 years of experience in the industry, we are the premier independent mechanics servicing Airport West and the greater Melbourne area. We're also proud to offer Afterpay and zipPay mechanic services for our Jeep owners so that you can enjoy total flexibility when it comes to financing your Jeep repairs and servicing.
Want to learn more about our Jeep mechanics and car services? You can contact us by filling out the form here or emailing info@sscmechanics.com.au. To book your Jeep car servicing, simply call us at (03) 9338 9573.