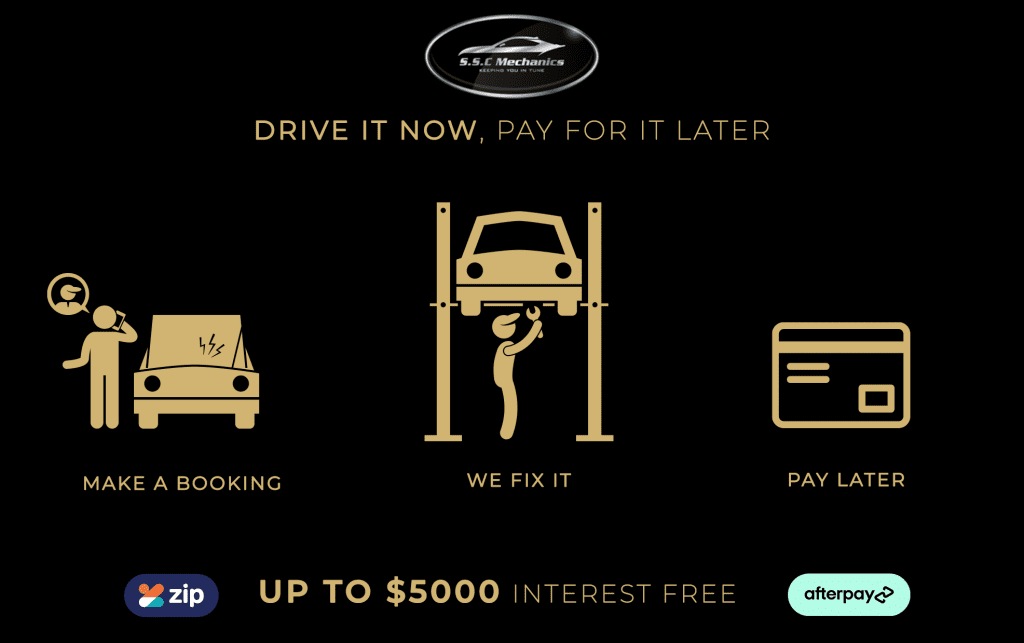 Have you found yourself in a difficult situation? Are you in need of professional mechanic services, but don't have the means to start making payments straight away? Don't worry, because SSC Mechanics has a solution for you.
At SSC Mechanics, we offer zipPay and Afterpay mechanic services up to $5,000, ensuring that you never have to put off your car care. These payment options are available for the following mechanic services:

If you prefer the "buy now, pay later" approach, but don't have the ability to make your first payment straight away, zipPay and Afterpay have you covered. So, what are you waiting for? Book your appointment with SSC Mechanics today.
What is an Afterpay Mechanic?
Sometimes, big purchases don't line up with our paycheques, or we find ourselves having to make concessions for expenses we couldn't have planned for. As a leading provider of flexible mechanic services in Airport West, we at SSC Mechanics want to do everything we can to ensure that you get the vehicular services you need when you need them. This is why we have partnered with Afterpay, allowing our customers a "buy now, pay later" approach to their mechanical needs.
This service allows you the peace of mind of knowing that your big purchases don't have to be made all at once. Working with an Afterpay mechanic provides you with the opportunity to get the product or service you need and then split the cost into easier-to-manage fortnightly payments, with only the first payment being made at the time of your purchase.
Whether your car breaks down on the road, or you simply need to come in for a standard checkup, Afterpay ensures that you have options when it comes to how you pay.
What is a zipPay Mechanic?
Similar to Afterpay, zipPay provides you with the chance to get the services you need whilst splitting payments into smaller, easier-to-manage amounts to be paid after the fact. However, unlike Afterpay which provides you with a set amount to pay back every fortnight, going to a zipPay mechanic allows you to set your own payment schedule based on your needs and situation.
What Car Services Can I Get With Afterpay?
As Melbourne's best Afterpay mechanic, we're proud to announce that all of our car services are now available on Afterpay and zipPay. Needing to get your car brakes serviced? Better safe than sorry – Afterpay your car brakes. Or maybe you're wanting to get your car serviced, which should be done every six months or 10 000 kilometres at a minimum? Look no further than SSC Mechanics to Afterpay your car service.
View Our Full Range Of Services >
Car Brands We Work With:
We specialise in European cars, but with over 12 years experience servicing all car brands, we service all cars of all makes and models using genuine car parts. Our mechanics service all brands, including: