Starting from humble beginnings in the textiles industry in Japan, today Toyota is the largest automobile company in the world, known for their cars' peerless durability, the most AWD and 4WD modes, incredible safety features, and best resale value.

Toyota has a proud history around the world of being a car that people can trust. For 89 years the company has had a huge focus not only on making their cars "good", but on making them the best cars on the market, and it shows. With their extensive list of features and brand reputation, it's easy to see why they're so popular, but your Toyota servicing is extremely important.

If you own a Toyota, then you already know about their stellar reliability and incredible effectiveness - so in order to preserve that you'll be looking for a mechanic that is going to preserve that integrity. We're proud to say that with SSC, you'll find a Toyota mechanic that stands out among the rest for the same reasons Toyota does - we're the best quality.

Call us today (03) 9338 9573 or fill in the form!

The Toyota Story (A Brief History)
In 1924 a Japanese businessman by the name of Sakichi Toyoda manufactured and patented the Toyoda Model G Automatic Loom. What made this loom special was that it was the first loom to stop itself when a problem occurred, a concept known as jidoka in Japanese. In 1929 the loom's patent was sold to the British company Platt Brothers.
This sale gave Sakichi Toyoda's son, Kiichiro Toyoda, the starting capital to establish an automobile manufacturing branch of his father's loomworks company. The Toyota Type A engine prototype was finished in September of 1934, with the first prototype sedan complete in May the next year. In 1936 the company completed their first passenger car, the Model AA.
The company's current name, using a "t" phoneme instead of the original "d" came from Sakichi Toyoda's son-in-law, Rizaburo Toyoda. The name change was suggested because to write "toyota" took 8 strokes (a lucky number) rather than "toyoda"s 10 strokes in Japanese katakana. It is also visually simpler, as "toyoda" in Japanese requires a diacritic (mark that changes something about the letter or glyph it's paired with) whereas "toyota" eliminates the diacritic. It was also believed that the voiceless consonant "t" was more audibly attractive than the voiced "d" consonant.
The name was changed, foreign imports were banned by the government, and after the years of strife and conflict in WWII, and a financial crisis, Toyota eventually rose to become the globally dominating automobile giant it is today.
SSC: Your Independent Toyota Mechanic
Get out from under the hood. Let's be honest, this is something that people do. They have a problem with their car, so they get out, open up the bonnet, and take a look inside while putting their hands on their hips.
And all they really understand is where to find the water and oil. They know what the engine is, but they wouldn't know how to tell if something is wrong with it, or what any one of the myriad of the parts in their car's mechanical structures are.
We're not teasing here, it's just a fact. When you're sick, you go to a doctor, when your computer is broken you take it to an IT guy, and when your Toyota is broken you bring it to us. SSC mechanics are independent mechanics that specialise in Toyota. Based in Airport West, we've established ourselves as one of Melbourne's most trusted Toyota servicing mechanics.
What sets us apart is the fact that we're a family business, who understand how genuinely important that a car like a Toyota can be to a family. After all, their durability and safety features make them both economical and ensure that your loved ones are protected. We also pride ourselves on our trustworthiness. We're fully aware that people find it hard to trust a mechanic. We want to be part of the solution. If you're looking for a Toyota mechanic in Melbourne, choose SSC to avoid overpriced, shoddy workmanship.
But rather than tell you all this, we'd rather let our accreditations speak for themselves:
LVT (Licensed vehicle tester/Roadworthy inspection)
AAFRB (Automotive Alternative Fuels Registration Board)
VACC Certificate III Automotive – qualified light vehicle automotive technician & motor mechanic.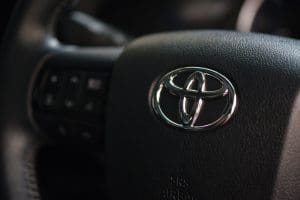 Specialist Toyota Services
If that doesn't impress you then maybe our extensive list of services will:
Transmission Services
Do you get a burning smell when you drive? Is changing gears a pain? There could be something wrong with your transmission. Bring your car in for the SSC treatment and we'll be sure to get it all sorted out.
Radiator Repairs
People are made to operate in the heat. We have an organic cooling system in sweat, and our blood acts as a thermoregulation method. Cars don't have that. Cars have machines and machines produce heat. So they need more machines to keep them cool. This is what a radiator does, and when it breaks it's not pretty.
Mechanical Repairs
If it's a car we can fix it. We have the experience and parts necessary to fix any issue on four wheels, and we handle every job with our customary dedication to excellence and quality.
Log Book
Every car has a set of manufacturer specified repairs and maintenance jobs that need to be done on it regularly. These repairs are called "Log Book" repairs and they're integral to keeping your car working properly.
Road Test
Road Tests are specialised inspections carried out by a mechanic to test the road safety of your vehicle, as well as attempting to replicate any outstanding or intermittent issues.
Vehicle Safety Check & Inspection
The best way to see if your car meets legal requirements (and your personal requirements) for safety is to have it checked by a licensed professional.
Roadworthy Certificates
Roadworthy certificates are necessary when selling your Toyota, but can only be granted by licensed testers. Like us.
Wheel And Tyre Fitting
The wheels are the most integral part of any car. After all, without them the car doesn't do what the car is designed for.
Top Toyota Servicing in Airport West
If you've got a Toyota in Airport West and Melbourne, come down to SSC mechanics, and we'll make sure that when you drive away, you drive away in a vehicle that's safe, effective, and all at some of the most competitive prices you'll find. Fill in the enquiry form today!
Don't drive a Toyota? No problem! Our specialist mechanics are trusted to work on all car brands, including Ford, BMW, Maserati mechanics, Subaru mechanics and Porsche.