Can you sell a car without a roadworthy certificate? Can I sell my used car to a dealer? What forms and papers need to be filled out for my used car sale to meet legal requirements? Selling your used car can come with a lot of unexpected questions and uncertainties, and it's easy to see why people often struggle with it. After all, selling a car is a large transaction, and for many of us, it's something we don't get a lot of practice with. Assuming you're not someone that sells used cars for a living, then there is a lot of esoteric knowledge that you'll need to learn about quickly before making any moves.
At S.S.C Mechanics, we have a wealth of experience offering vehicle owners, buyers and sellers assistance with the maintenance and upkeep of their machines. So, if you're wondering how to sell a used car, but aren't sure where to start looking for information, we're here to help.
Can You Sell a Car Without a RWC (Roadworthy Certificate)?
This is actually a surprisingly complex question, in part due to how different laws can be from country to country, or even from state to state. However, for a short answer, using Victorian law as an example, you need a roadworthy certificate to be sold alongside your vehicle if the new owner plans on actually driving it on the road. This can change if you're selling or transferring ownership of your used car to a licensed dealer, but whilst VicRoads has no exact specifications on who is responsible for organising a used car's RWC, in most cases it will fall on the seller, not the buyer, to organise.
So, if you want a simple response to "can you sell a car without a roadworthy certificate?", the answer would technically be yes, but only in specific situations.
Is the Process Different Depending on the Type of Vehicle?
In some ways, yes, but the broad strokes are the same. From the VicRoads website, you can download the Vehicle Transfer Form, which will guide you through the entire sale process. For the sake of simplicity and ease of use, this form will help you in the transferring of cars, motorbikes, trailers, caravans and tracks, so all in all, if you have experience selling one type of used vehicle, the process for others should be quite familiar to you.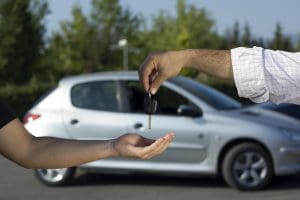 What Paperwork Will I Have to Organise Before Selling My Used Car?
As the person selling a car, you will need to be able to prove that you have the right to transfer this vehicle to its new owner. For this, you will need to show proof of the right to transfer, which includes:
The vehicle's registration renewal or certificate.
An accepted form of photo ID.
If preferred, the vehicle's record in your myVicRoads account.
There will also be other processes in place if you have custom plates that you would prefer to keep. For this, you will have to notify VicRoads and remove the plates prior to the sale. As discussed in the first point, many cases will require you as the seller to handle registration before you can sell, which will also require you to organise new number plates with VicRoads and pay the associated fees.
With all that said, there are circumstances in which you may want to sell your vehicle with its custom plates. Luckily, this is quite simple and just requires you to transfer the reg number rights to the buyer during the selling process.
Can I Sell My Used Car to a Dealer?
One of the main questions when it comes to selling a used car is "can I sell my used car to a dealer?", as opposed to selling it in a private sale. In short, the answer is yes, but "can I sell my used car to a dealer?" is a very different question to "SHOULD I sell my used car to a dealer?".
In the question of dealer vs private sale, both are going to have their benefits, but if you need a quick guide, the main difference will be a profit to effort ratio. Dealers often expect very little of you to sell your car, which makes it an easier process, but they are also less likely to give you the best price. On the flip side, a private buyer doesn't need to be able to immediately sell the vehicle for a profit, so you can get more, but there are a lot of expectations placed on you in terms of preparation.
In short, there's no right answer, and what you decide will be determined by what your priorities are. For those that want a quick, easy sale, a dealer is going to be the ideal avenue, and for those that want to get the most they can out of the sale and are willing to put in the work, a private sale will be the right choice.
Selling your car can be an incredibly difficult process when you don't know where to start. However, with the right information and research, there are many different viable avenues for ensuring that your car selling experience goes off without a hitch. Want to learn more about all things vehicle maintenance? Want to see what an experienced mechanic in Airport West can do for you? Just want to book your appointment? Well, you can read more of our mechanic blog, or contact us today for all your vehicular maintenance needs.
Looking for more how-to guides to make car repairs easy? Check out some other guides that might help you!
BACK TO BLOG